Wondering how to create engaging short-form videos for a B2B brand? You're not alone. Mastering content creation for platforms like TikTok and Instagram Reels is no easy task, and it often feels as though you're set up to fail. For here you are, competing for enduring engagement and loyalty in an environment curated for short attention spans.
Despite these challenges, 87% of marketers believe video has a direct, positive impact on sales, with short-form video yielding the highest ROI of any social media strategy. On top of that, multiple B2B brands have successfully leveraged short-form video platforms to increase lead generation and brand awareness.
This proves that there is real potential for B2B brands to grow on short-form video platforms. The trick is striking a balance between your brand's marketing goals, creativity and authenticity.
So what's the secret? And how are companies like Hootsuite, Shopify and Adobe pioneering the B2B space on TikTok? Let's break it down.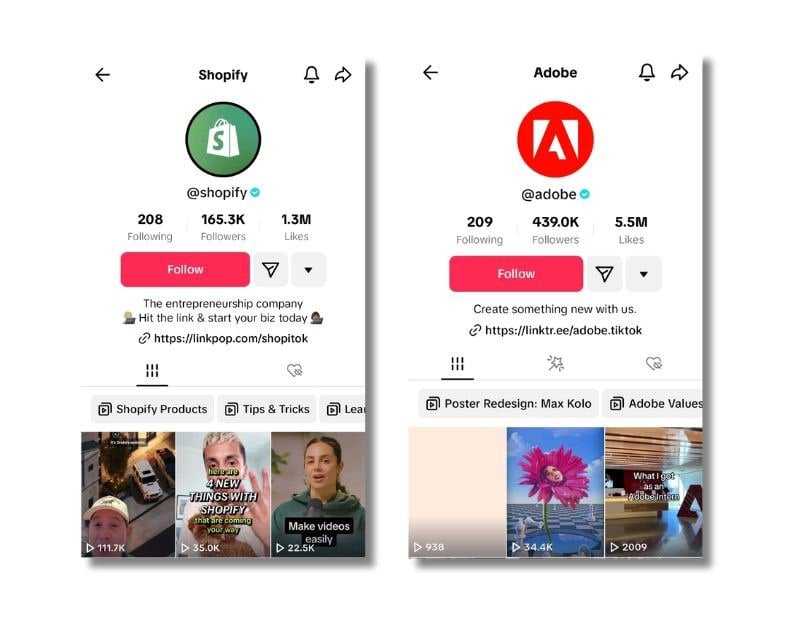 Is TikTok Worth The Effort For B2B Brands?
For years, public perception of TikTok has been… divisive, to say the least. TikTok gained a reputation as a "dance app" for kids, and consumer-focused brands were quick to see the marketing potential. However, in the B2B world, TikTok marketing remained a questionable investment.
Yet, while we had our backs turned, TikTok was evolving. Just as YouTube rose from the ashes of low-resolution home video clips and memes, TikTok has grown into a platform brimming with impactful information, creativity and storytelling.
With TikTok's expansion, its potential for B2B brand marketing has also grown. With over 1 billion monthly users, the platform has significantly influenced digital marketing. TikTok's popularity has redefined our expectations of social media content, and brands must innovate their use of video content to stay competitive.
TikTok Benefits for B2B Brand Marketing
Organic Reach: The TikTok algorithm does not care how many followers you have, and as a brand, that should be music to your ears. Everytime you post a video to TikTok, it has the potential to reach hundreds of thousands, if not millions, of fresh eyeballs.
Attention Span and Engagement: In a world where attention spans are shrinking, B2B brands must learn to convey their message efficiently. TikTok is the most engaging social media platform, with an average engagement rate of 4.25%. For comparison, TikTok's closest competitor, Instagram Reels, delivers an average engagement rate of just 1.95%.

Niche-Specific Communities: TikTok's algorithm curates content based on users' interests and interactions. This presents a unique opportunity for B2B brands to tap into hyper-targeted audience segments within specific niches.

TikTok, Google and SEO: Did you know that TikTok videos are indexed by Google? That's right, your TikTok videos can help you appear on search engine results pages (SERPs). When done right, TikTok SEO not only improves in-app video performance, but also has the potential to drive traffic externally.
Humanization of Brands: B2B brands often struggle with appearing personable. Short-form videos allow you to showcase the human side of your company by featuring employees, behind-the-scenes footage, or highlighting company culture.
Best Practices for B2B Short-Form Video
Find Your Community
When it comes to B2B brand marketing on TikTok, there's a common misconception that you're starting your community from scratch. However, TikTok offers a treasure trove of existing communities that B2B brands can readily tap into, saving both time and effort.
Let's say you're in B2B tech. Plugging hashtags like #techtok and #remotework into TikTok's search bar will produce results of the top ranking content in these categories. From there, you can join communities and conversations that are relevant to your brand by:
Using TikTok's stitch and duet features to create response videos
Engaging with top creators by tagging them in content
Getting creative by joining in on circulating trends and topics
Leaving valuable or relatable comments on viral videos
Create Content that "Fits In"
Here's a scenario I've heard too many times: A brand is ready to dive into TikTok, but there's a tiny hitch—they're missing content. So, what's the fix? They start throwing every video they've got onto TikTok, hoping for the best.

In most cases, this delivers poor results. If you want to ace TikTok as a brand, you need to create content that feels like it belongs there, but…what does that mean?

TikTok is a playground with all sorts of creators, each with their own unique style and vibe. But spend enough time on the platform, and you'll spot something. Those smash-hit TikTok videos? They've got a few key ingredients.
1. Get 'Em Hooked Right Away: Right at the start, there's a catchphrase or something that reels you in. Both spoken and as text on screen.
2. Chill Delivery, No Fuss: Info gets dished out casually, with no buzzword babble. TikTok creators focus on creating content that is bingeable and easy to digest.
3. Short and Snappy Clips: Attention spans on TikTok are short, and so are the clips. Snips, cuts, and jumps — top performing videos will have multiple. It's all about keeping those eyeballs glued.
4. Authenticity is Gold: Remember, TikTok was built on authenticity. Real people making content for other real people. So, the more "real" the creator is, the more it resonates.
5. Make it Vertical: TikTok is designed for vertical content. Go horizontal, and it's like showing up to a beach party in a tuxedo. People are swiping away even before the music starts.
Crafting content for TikTok and other short-form platforms isn't just about flashy visuals. It's about understanding the rhythm, vibe, and even the unspoken rules of each platform.

Seasoned creators live and breathe these nuances, which means your content will feel at home and connect with the audience in a way your internal team might not yet grasp. Thankfully, the creator economy continues to grow, and there is no shortage of talented creators willing to partner with brands.
When it comes to bringing in creators for your B2B short-form video content, options are aplenty:
Influencer Campaigns: Collaborating with influencers lets your brand step into the limelight on a new platform, instantly connecting with an engaged audience. By harnessing their authenticity and connection, you can ride the influencer's wave and build awareness within their community.

Freelance Creators: Contracting freelance creators offers a blend of flexibility and cost-efficiency. You can work with these skilled individuals for specific campaigns or extended periods, tailoring your approach to your evolving needs.

Full-Time Digital Creators: Hiring full-time digital creators to join your marketing team is a strategic move that's gaining traction. More companies are realizing the value of having an in-house creator who intimately understands the platforms, trends, and pulse of their online audience.
@adobe When you create something with love, you can't go wrong 💗 Creators Samuel Anthony and Erik Velasquez have been sharing their incredible journey together through their creativity for nearly a decade, and we can't wait to see where they go next. #CreateWithPride ♬ original sound - Adobe
Adobe partnered with influencers Samuel Anthony and Erik Velasquez to showcase how Adobe products can support full-time digital creators. As the comments show, the video was popular with the couple's audience, successfully extending Adobe's reach into new online communities.
Become a Topic Expert
As much as 90% of consumers say that authenticity is the most important factor in deciding which brands they support. You must strike a balance between product awareness and providing value. For many B2B brands, that sweet spot exists in the realm of educational content.
Shopify is a fantastic example of what this looks like when done right. Scroll through Shopify's TikTok content and you can learn about AI marketing tools, content creation tips, and how to write the perfect business plan.
Their TikTok bio says it all: they are "the entrepreneurship company." Therefore, their content tackles common pain points and questions business owners face. This allows them to expand their reach beyond their core product, while also fostering an environment ripe for creativity and a steady flow of content ideas.
Shopify has mastered the art of delivering valuable business information in an engaging format suitable for TikTok.
Don't Forget TikTok SEO
According to Google's own data, 40% of young people (ages 18-24) prefer to use TikTok or Instagram search over Google. That's right—young people are using social media as a search engine.
Video content has surged as the go-to avenue for online discovery. To seize this evolving search trend, optimizing your content with SEO techniques is paramount.
Best practices for TikTok SEO include placing keywords in your on-screen text, as well as sprinkled throughout your caption. Creating content that directly addresses questions, such as "how-to" videos, will also increase the likelihood of your content appearing under relevant search terms.
To enhance your visibility, explore relevant keywords by conducting a search within TikTok. Scroll down to discover a concise selection of frequently searched terms related to your general topic. These keywords can be strategically incorporated to optimize your content's reach and impact.
Short-Form Video Is Here To Stay!
In the end, mastering short-form video content for B2B brands is not about reinventing the wheel, but rather about harmonizing with the unique rhythms and communities that platforms like TikTok offer.
With the right approach, your B2B brand can not only navigate the TikTok landscape but thrive within it, connecting with new audiences and expanding brand awareness within this new dynamic digital frontier.
One thing is clear: short-form video is here to stay, and it's not afraid to spice things up.
Looking for more digital marketing insights? Learn how to navigate evolving marketing trends and maximize your brand's impact in The CMO newsletter!